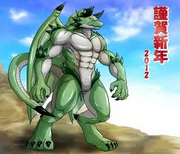 Angry is a 13 year old dragon that recently joined the Park for the physical jobs, like Skips. He has a nice friendship with everyone, though he enjoys being with Rigby the best. Unlike Rigby however, he is unfazed by horror movies, which horrify Rigby.
Skills and Abilities
Strength - Look at pic, 'nuf said.
Flight - Angry can fly unlike the other winged worker, Mordecai.
Fire Breath - Being a dragon, Angry can incinerate with flame breath.
Speed - Despite his bulk & brawn, he is faster than anyone in or near the Park.
Trivia
Angry is based off dragons from Mythology and the user's (AngryGodzillaPie) RP Character
Enemies
Benson (sometimes)
High Five Ghost (sometimes)
Muscle Man (sometimes)
Starla (sometimes)
Friends
Mordecai
Rigby
Skips
Pops
Thomas
Margaret
Eileen
Mr. Maellard
Any other park worker OCs, etc.